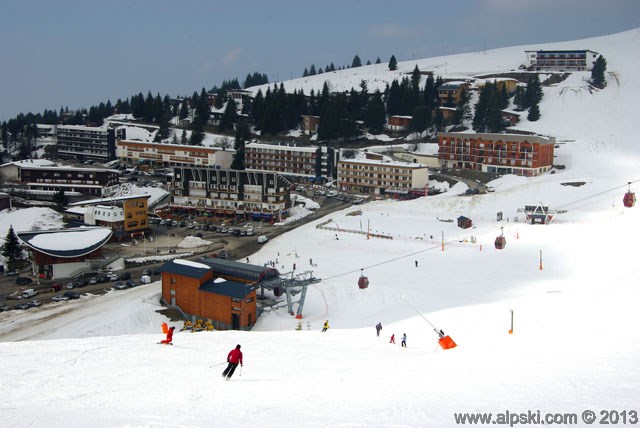 The ski resort of Chamrousse is located in the Isere region of France, 30km from the city of Grenoble in the Belledonne mountain range. It is possible to reach the summit of its ski area, the croix de Chamrousse at 2250 metres, from three different starting points: Chamrousse 1650 (Recoin), Chamrousse 1700 (Domaines de l'Arselle) et Chamrousse 1750 (Roche Béranger). At the summit there is a magnificent panorama with breathtaking views of all the surrounding mountain ranges (Chartreuse, Vercors, Oisans) as well as the city of Grenoble and its valleys.

The alpine ski area of Chamrousse is ideal for skiers of all levels. Easy and accessible slopes through the forest are a real pleasure for beginners of skiing. Experienced skiers can race down the more difficult slopes, including those of the 1968 Olympic Games, with the legendary men's downhill won by Jean-Claude Killy. The resort also has an excellent freestyle area and a snowpark for skiers of all levels.

The cross-country ski runs are situated on a large plateau next to Chamrousse 1700. During February it is also possible to ski in the evening on the floodlit Gaboureaux slope. For non-skiers, many outdoor activities are available, such as ice skating, sledding, snowshoeing, dog sledding, ice diving and many more. There are also relaxation activities proposed for all tastes and ages.
Downhill skiing
Maximum altitude: 2250 m
Minimum altitude: 1600 m
Number of ski lifts: 16 (gondola lifts: 1, chairlifts: 7, drag lifts: 8)
Number of ski runs: 45 (

black: 7

,

red: 15

,

blue: 14

,

green: 9

)
Total distance: 90 km
Dedicated activity areas: 2 (boarder cross: 1, snow park: 1)
Cross-country skiing
Number of runs: 13 (

black: 1

,

red: 4

,

blue: 2

,

green: 6

)
Total distance: 40 km
Snow conditions
Last updated: Thursday, 07 December 2023 at 10:16
Downhill ski area
Snow conditions:
Snow depth on lower slopes: 40cm
Snow depth on upper slopes: 60cm
Avalanche risk:
Return by ski:
Black runs open: 0 / 7

Red runs open: 3 / 15

Blue runs open: 5 / 14

Green runs open: 4 / 9

Runs open : 12 / 45
Lifts open: 4 / 16
Weather
Last updated: Thursday, 07 December 2023 at 10:16
Temperature at summit: 0°C
Temperature at base: 3°C

Today
Thursday

Tomorrow
Friday
Dates for 2023-24 winter season
Opening: Saturday 2 December 2023
Closing: Sunday 14 April 2024
Distance by car
Grenoble to Chamrousse: 30 kilometres (19 miles). Estimated time: 35 minutes
Chambéry to Chamrousse: 83 kilometres (52 miles). Estimated time: 1 hour 13 minutes
Lyon to Chamrousse: 143 kilometres (89 miles). Estimated time: 1 hour 42 minutes