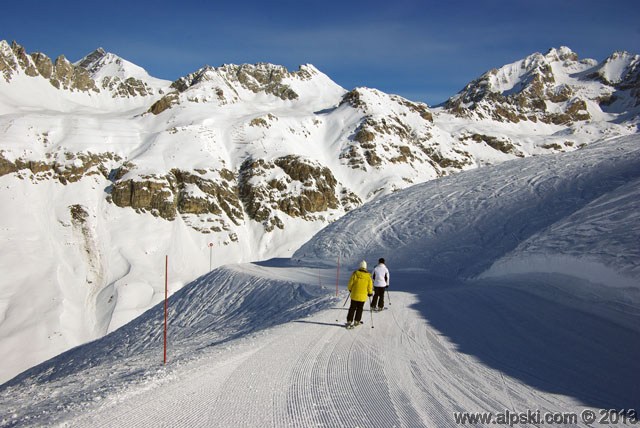 The ski resort of Val d'Isère is situated in the Vanoise mountain range at the top end of the Tarentaise valley (Haute Tarentaise). It is one of the oldest French ski resorts. Val d'Isère is an authentic high mountain village with many wooden buildings constructed in keeping with the mountain environment. Its ski area is huge.

The resort shares, with Tignes, the legendary Espace Killy ski area. Its slopes are suitable for all levels of skiing and all kinds of winter sports. Beginners benefit from specially designed "easy ski "areas. Advanced skiers can descend the slopes that are used annually for World Cup ski competitions, such as the "Criterium de la première neige". There is also a terrific snowpark.

The resort also comes alive in the late afternoon and evening, with a sports centre for relaxation, numerous boutiques for shopping, events organized by the resort for children, and many bars and restaurants. Val d'Isere is a charming village that offers high quality accommodation and skiing which is why it is now one of the most fashionable destinations in the French Alps.
Downhill skiing
Maximum altitude: 3241 m
Minimum altitude: 1785 m
Number of ski lifts: 49 (funiculars: 1, cable cars: 3, gondola lifts: 2, chairlifts: 22, drag lifts: 20, carpet lifts: 1)
Number of ski runs: 78 (

black: 12

,

red: 21

,

blue: 32

,

green: 13

)
Total distance: 148 km
Dedicated activity areas: 2 (boarder cross: 1, snow park: 1)
Cross-country skiing
Number of runs: 6 (

red: 2

,

blue: 4

)
Total distance: 24 km
Snow conditions
Last updated: Saturday, 06 May 2023 at 10:07
Downhill ski area
Snow conditions:
Snow depth on lower slopes: 0cm
Snow depth on upper slopes: 0cm
Avalanche risk:
Return by ski:
Black runs open: 0 / 12

Red runs open: 0 / 21

Blue runs open: 0 / 32

Green runs open: 0 / 13

Runs open : 0 / 78
Lifts open: 8 / 49
Weather
Last updated: Saturday, 06 May 2023 at 10:07
Temperature at summit: 0°C
Temperature at base: 0°C

Today
Saturday

Tomorrow
Sunday
Dates for 2022-23 winter season
Opening: Saturday 26 November 2022
Closing: Monday 1 May 2023
Distance by car
Chambéry to Val d'Isère: 136 kilometres (85 miles). Estimated time: 1 hour 51 minutes
Grenoble to Val d'Isère: 166 kilometres (103 miles). Estimated time: 2 hours 8 minutes
Lyon to Val d'Isère: 170 kilometres (106 miles). Estimated time: