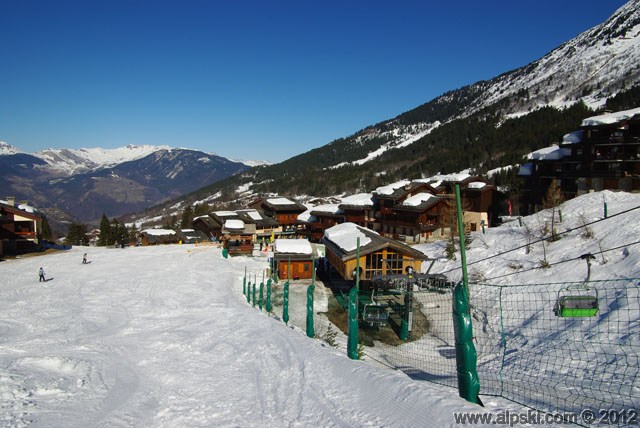 The ski resort of Valmorel is located in the heart of the Tarentaise mountain range at the foot of the Col de la Madeleine. The resort has an exceptional panorama with unobstructed views of the Mont Blanc range and the Lauzière. It is a resort that has preserved the charm of a mountain village with its traditional Savoyard chalets built of stone, wood and slate. Everything here is in harmony with nature.

Its ski area is suitable for all levels of skier. It has several dedicated beginner areas, wide open areas for ski-trekking and off-piste skiing and snowzones for new ski resort activities such as boarder cross, snowboard cross and free style skiing). Valmorel, Doucy Combelouvière and Celliers, along with the neighbouring ski resort of Saint François Longchamp, which is just the other side of the Col de la Madeleine, make up the Grand Domaine.

Non-skiers can enjoy a wide range of outdoor activities such as snow-shoe hiking, snake gliss or airboard.
Downhill skiing
Maximum altitude: 2550 m
Minimum altitude: 1300 m
Number of ski lifts: 32 (gondola lifts: 3, chairlifts: 9, drag lifts: 19, carpet lifts: 1)
Number of ski runs: 103 (

black: 8

,

red: 20

,

blue: 48

,

green: 27

)
Total distance: 95 km
Dedicated activity areas: 2 (boarder cross: 1, snow park: 1)
Cross-country skiing
Number of runs: 17 (

black: 2

,

red: 1

,

blue: 7

,

green: 7

)
Total distance: 41 km
Snow conditions
Last updated: Monday, 11 September 2023 at 12:00
Downhill ski area
Snow conditions:
Snow depth on lower slopes: cm
Snow depth on upper slopes: cm
Avalanche risk:
Return by ski:
Black runs open: 0 / 8

Red runs open: 0 / 20

Blue runs open: 0 / 48

Green runs open: 0 / 27

Runs open : 0 / 103
Lifts open: 0 / 32
Weather
Last updated: Monday, 11 September 2023 at 12:00
Temperature at summit: °C
Temperature at base: °C

Today
Monday

Tomorrow
Tuesday
Dates for 2022-23 winter season
Opening: Saturday 17 December 2022
Closing: Sunday 16 April 2023
Distance by car
Chambéry to Valmorel: 88 kilometres (55 miles). Estimated time: 1 hour 11 minutes
Grenoble to Valmorel: 118 kilometres (73 miles). Estimated time: 1 hour 27 minutes
Lyon to Valmorel: 193 kilometres (120 miles). Estimated time: 2 hours 9 minutes