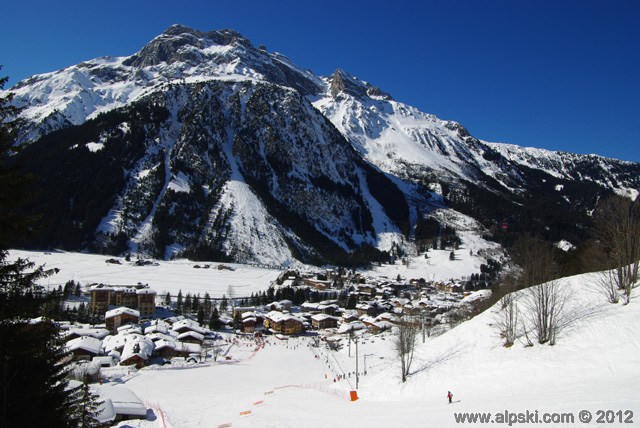 Pralognan la Vanoise is a small family oriented ski resort in the Tarentaise valley (Savoie). It is a typical traditional Savoyard village resort located between the ski resorts of Courchevel and La Plagne in the heart of the Vanoise National Park. The ski area extends from 1400 metres to an altitude of 2355 metres and generally benefits from very good snow cover. The resort has wide range of ski runs, suitable for all skiers, from gentle green runs for beginners to mogul fields and powder snow gullies for the very experienced skiers.

Pralognan la Vanoise is also the Savoie's 4th largest site for cross-country skiing, with 26 km of runs in the forest and in the valley. There are also a number of snowshoe and Nordic walking trails.

Pralognan offers numerous sporting and relaxation activities for non-skiers. The resort has an Olympic ice rink where, at the 1992 winter Olympic Games, Dominique Dupont-Roc, Annick Mercier, Claire Niatel and all the other highly talented members of the French curling team played many memorable matches.
Downhill skiing
Maximum altitude: 2355 m
Minimum altitude: 1410 m
Number of ski lifts: 13 (cable cars: 1, chairlifts: 4, drag lifts: 7, carpet lifts: 1)
Number of ski runs: 24 (

black: 4

,

red: 8

,

blue: 3

,

green: 9

)
Total distance: 26 km
Dedicated activity areas: 1 (snow park)
Cross-country skiing
Number of runs: 5 (

black: 1

,

red: 2

,

blue: 1

,

green: 1

)
Total distance: 26 km
Snow conditions
Last updated: Friday, 02 June 2023 at 11:45
Downhill ski area
Snow conditions:
Snow depth on lower slopes: 23cm
Snow depth on upper slopes: 65cm
Avalanche risk:
Return by ski:
Black runs open: 0 / 4

Red runs open: 1 / 8

Blue runs open: 1 / 3

Green runs open: 4 / 9

Runs open : 6 / 24
Lifts open: 3 / 13
Weather
Last updated: Friday, 02 June 2023 at 11:45
Temperature at summit: -9°C
Temperature at base: -3°C

Today
Friday

Tomorrow
Saturday
Dates for 2022-23 winter season
Opening: Saturday 17 December 2022
Closing: Monday 10 April 2023
Distance by car
Chambéry to Pralognan la Vanoise: 104 kilometres (65 miles). Estimated time: 1 hour 27 minutes
Grenoble to Pralognan la Vanoise: 135 kilometres (84 miles). Estimated time: 1 hour 44 minutes
Lyon to Pralognan la Vanoise: 209 kilometres (130 miles). Estimated time: 2 hours 26 minutes