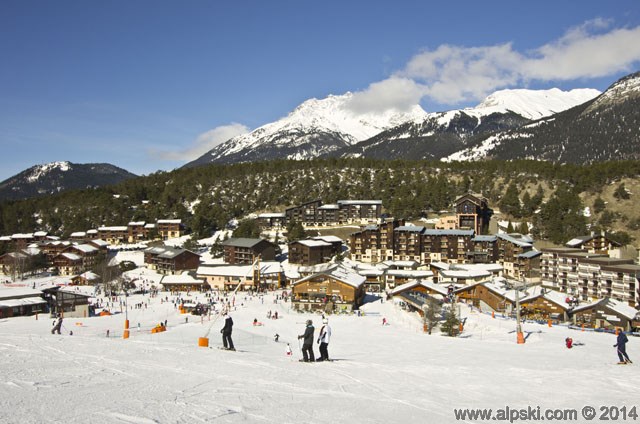 La Norma is a family oriented ski resort situated in the heart of the Vanoise mountain range, just a few kilometres from Modane. It is an authentic Savoyard village resort with a ski area that has good snow cover thanks to its north west exposure.

La Norma has a variety of ski slopes suitable for all levels. The ski area is divided into two parts: the snowfront up to the plateau de la Repose, with large green and blue runs for beginners, and the upper part of the resort with its challenging red and black runs, that allow advanced skiers to enjoy descending 1400 vertical metres from the top of the Norma II chairlift, at 2750 metres, down to the bottom of the resort.

The variety of the ski area in La Norma also lends itself to an introduction to off-piste skiing with some nice ski possibilities through the pine woods. The lifts are not brand new so some of them can be quite slow, but, when we were there, in what can be considered to be a busy period, we never had to queue for long. This may be because the upper part of the resort is generally used by advanced level skiers. You should however avoid the Mélezet gondola lift at times when ski lesson groups have just started.

La Norma is perfect for a day of skiing for advanced skiers and for low budget family skiing holidays. It is an ideal family resort perfect for ski holidays with young children and beginners.

For all those who come to ski in La Norma for a week and who want to explore other ski areas in the vicinity, the resort has set up, for a few extra euros, the Eski-Mo package. This allows you to go skiing in the neighbouring resorts of Aussois, Valfréjus, Val Cenis and Bonneval sur Arc, for which a shuttle service is provided.
Downhill skiing
Maximum altitude: 2750 m
Minimum altitude: 1350 m
Number of ski lifts: 13 (gondola lifts: 1, chairlifts: 6, drag lifts: 5, carpet lifts: 1)
Number of ski runs: 29 (

black: 2

,

red: 13

,

blue: 7

,

green: 7

)
Total distance: 65 km
Dedicated activity areas: 1 (snow park)
Snow conditions
Last updated: Thursday, 07 December 2023 at 11:47
Downhill ski area
Snow conditions: Unknown
Snow depth on lower slopes: cm
Snow depth on upper slopes: cm
Return by ski:
Black runs open: 0 / 2

Red runs open: 0 / 13

Blue runs open: 0 / 7

Green runs open: 0 / 7

Runs open : 0 / 29
Lifts open: 0 / 13
Weather
Last updated: Thursday, 07 December 2023 at 11:47
Temperature at summit: °C
Temperature at base: °C
Dates for 2023-24 winter season
Opening: Saturday 23 December 2023
Closing: Friday 12 April 2024
Distance by car
Albertville to La Norma: 98 kilometres (61 miles). Estimated time: 1 hour 5 minutes
Chambéry to La Norma: 108 kilometres (67 miles). Estimated time: 1 hour 10 minutes
Grenoble to La Norma: 137 kilometres (85 miles). Estimated time: 1 hour 29 minutes