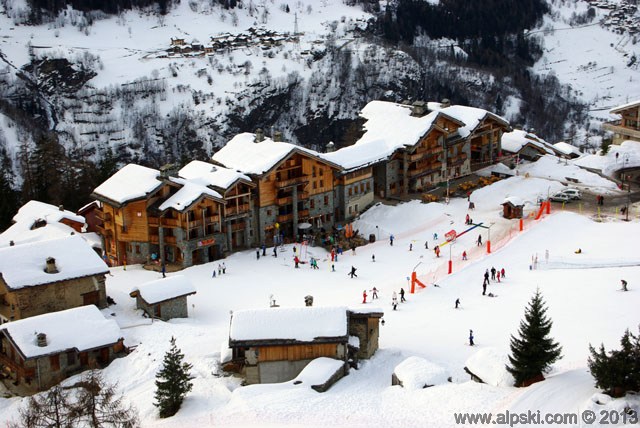 Sainte Foy Tarentaise is a small resort surrounded by the mountains of the Vanoise National Park. It lies at the heart of the Haute Tarentaise away from the frenzy of the big resorts that surround it. Sainte Foy Tarentaise is a recent resort, built to comply with the architectural tradition of the Tarentaise valley. The result is an authentic charming village surrounded by trees with stone and wood chalets and traditional slate roofs.

Sainte Foy is a resort on a human scale that preserves the spirit and traditions of mountain life. Its ski area is not massive, but because its exposure is North West, the snow quality is almost always excellent. The slopes, from 1550 to 2620 metres in altitude, are of varying difficulty, suiting all levels of skier. All the hotels and apartments are located in a beautiful alpine forest setting, populated mainly with larch and spruce trees. A few metres from the ski runs, advanced skiers, accompanied by a mountain guide, can easily access the exceptional off-piste and free-ride area. Organised heliskiing trips will enable you to ski the virgin snow of the Ruitor glacier and the famous north face of the Foglietta.

Non-skiers can enjoy the marked snowshoe trails on foot or on dogsled and discover the many old alpine chalets in the area. In the evening, after skiing, you can relax and rejuvenate in the resort's spa centre.
Downhill skiing
Maximum altitude: 2620 m
Minimum altitude: 1550 m
Number of ski lifts: 6 (chairlifts: 4, carpet lifts: 2)
Number of ski runs: 25 (

black: 4

,

red: 12

,

blue: 7

,

green: 2

)
Total distance: 41 km
Snow conditions
Last updated: Monday, 01 May 2023 at 08:50
Downhill ski area
Snow conditions:
Snow depth on lower slopes: cm
Snow depth on upper slopes: cm
Avalanche risk:
Return by ski:
Black runs open: 0 / 4

Red runs open: 0 / 12

Blue runs open: 0 / 7

Green runs open: 0 / 2

Runs open : 0 / 25
Lifts open: 0 / 6
Weather
Last updated: Monday, 01 May 2023 at 08:50
Temperature at summit: °C
Temperature at base: °C

Today
Monday

Tomorrow
Tuesday
Dates for 2022-23 winter season
Opening: Saturday 3 December 2022
Closing: Sunday 16 April 2023
Distance by car
Chambéry to Sainte Foy Tarentaise: 116 kilometres (72 miles). Estimated time: 1 hour 27 minutes
Grenoble to Sainte Foy Tarentaise: 146 kilometres (91 miles). Estimated time: 1 hour 44 minutes
Lyon to Sainte Foy Tarentaise: 221 kilometres (137 miles). Estimated time: 2 hours 25 minutes