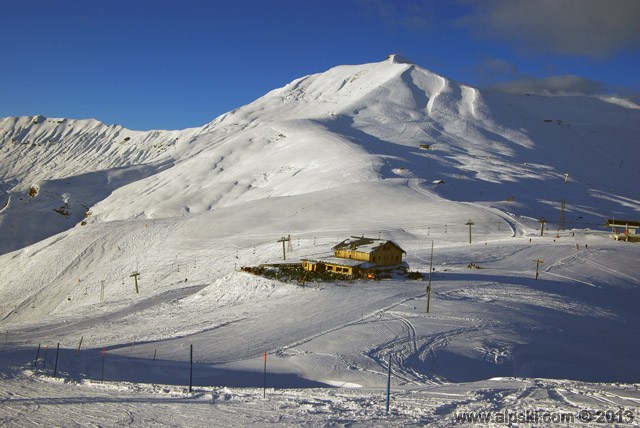 Hauteluce Val Joly is located in the heart of the Beaufortain mountain range (Savoie). The downhill ski slopes are accessible from the hamlet of Belleville, 7 km from the village of Hauteluce.

Hauteluce Val Joly's ski area, linked to the Contamines Montjoie ski area, is of great beauty with a variety of pistes suitable for a family skiing. Either side of the Col du Joly, between the Savoie and Haute-Savoie regions, you can benefit from a vast ski area with exceptional views of Mont Blanc.

Non-skiers can also enjoy snowshoe hikes in a calm and preserved natural environment, as well as many other mountain activities. Be aware however that if you buy an Hauteluce / Les Contamines Montjoie ski pass in Belleville, you will not have access to the Gorge gondola lift or the first section of the Montjoie gondola lift (both departing from Contamines village). This is a shame especially since the lift pass price is almost the same as when purchased in Les Contamines. The ski area information below relates only to Hauteluce Val Joly's own ski area.
Downhill skiing
Maximum altitude: 2487 m
Minimum altitude: 1200 m
Number of ski lifts: 8 (gondola lifts: 1, chairlifts: 4, drag lifts: 3)
Number of ski runs: 11 (

black: 2

,

red: 4

,

blue: 3

,

green: 2

)
Total distance: 40 km
Distance by car
Chambéry to Hauteluce Val Joly: 78 kilometres (48 miles). Estimated time: 1 hour 10 minutes
Grenoble to Hauteluce Val Joly: 109 kilometres (68 miles). Estimated time: 1 hour 26 minutes
Lyon to Hauteluce Val Joly: 183 kilometres (114 miles). Estimated time: 2 hours 8 minutes