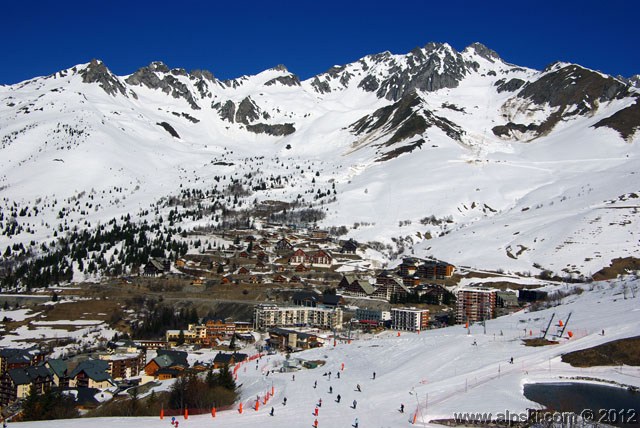 Saint François Longchamp is a ski resort in the Maurienne valley close to the Col de la Madeleine. It is a family oriented resort that has good sun exposure and is easily accessible, situated only 12 km from the motorway that runs through the valley. The village is at 1650 metres in beautiful surroundings, with a breathtaking panoramic view of Mont Blanc and the Belledonne and Oisans mountain ranges.

The ski area is vast and varied, suitable for all levels and budgets. Beginners and families will enjoy the slopes in Saint François. Advanced skiers can also choose to buy a Grand Domaine lift pass that includes the linked Valmorel ski area. There is also cross-country skiing in the Grand Coin area, although it is approximately 12 km from Saint-François Longchamp village.

The resort also offers many other activities for families such as its health and fitness centre or Le Forum des Eaux, founded by Tour de France champion cyclist, Bernard Hinault, which promotes the benefits of balneotherapy.
Downhill skiing
Maximum altitude: 2550 m
Minimum altitude: 1650 m
Number of ski lifts: 15 (chairlifts: 6, drag lifts: 7, carpet lifts: 2)
Number of ski runs: 36 (

black: 3

,

red: 9

,

blue: 13

,

green: 11

)
Total distance: 57 km
Cross-country skiing
Number of runs: 9 (

black: 2

,

red: 3

,

blue: 2

,

green: 2

)
Total distance: 45 km
Snow conditions
Last updated: Monday, 01 May 2023 at 08:50
Downhill ski area
Snow conditions:
Snow depth on lower slopes: 0cm
Snow depth on upper slopes: 0cm
Avalanche risk:
Return by ski:
Black runs open: 0 / 3

Red runs open: 0 / 9

Blue runs open: 0 / 13

Green runs open: 0 / 11

Runs open : 0 / 36
Lifts open: 0 / 15
Weather
Last updated: Monday, 01 May 2023 at 08:50
Temperature at summit: 0°C
Temperature at base: 0°C

Today
Monday

Tomorrow
Tuesday
Dates for 2022-23 winter season
Opening: Saturday 17 December 2022
Closing: Saturday 15 April 2023
Distance by car
Chambéry to Saint François Longchamp: 79 kilometres (49 miles). Estimated time: 1 hour 4 minutes
Grenoble to Saint François Longchamp: 109 kilometres (68 miles). Estimated time: 1 hour 20 minutes
Lyon to Saint François Longchamp: 184 kilometres (114 miles). Estimated time: 2 hours 2 minutes