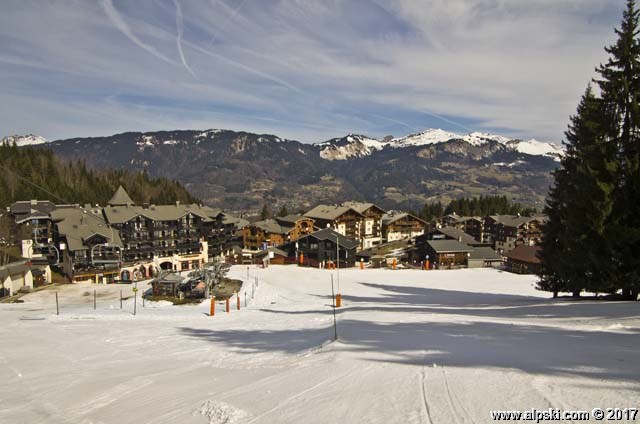 Morillon is a village ski resort in Haute-Savoie. It is a family ski resort divided into two sites connected by a cable car. Down in the valley there is the traditional village, with its wooden houses and chalet-style residences built around the ancient church of Saint Christophe, with easy access to the ski slopes and the cross-country skiing area. Up on the plateau of Les Esserts is the ski resort right next to the slopes.

Morillon's ski area descends through the middle of a pine forest with a beautiful view of the surrounding mountains and Mont Blanc. Morillon is part of the vast ski area of the Grand Massif which connects to the resorts of Flaine, Samoëns and Sixt-Fer-à-Cheval.The resort's slopes are suitable for all types of skier and ski level.

Cross country skiers will enjoy the varied slopes of the three sectors that make up the Haut Giffre cross-country area.
Downhill skiing
Maximum altitude: 2500 m
Minimum altitude: 700 m
Number of ski lifts: 8 (gondola lifts: 1, chairlifts: 5, drag lifts: 2)
Number of ski runs: 14 (

red: 3

,

blue: 9

,

green: 2

)
Total distance: 30 km
Cross-country skiing
Number of runs: 12 (

red: 2

,

blue: 5

,

green: 5

)
Total distance: 42 km
Snow conditions
Last updated: Friday, 02 June 2023 at 14:29
Downhill ski area
Snow conditions:
Snow depth on lower slopes: cm
Snow depth on upper slopes: cm
Avalanche risk:
Return by ski:
Black runs open: / 0

Red runs open: / 3

Blue runs open: / 9

Green runs open: / 2

Runs open : 0 / 14
Lifts open: / 8
Weather
Last updated: Friday, 02 June 2023 at 14:29
Temperature at summit: °C
Temperature at base: °C

Today
Friday

Tomorrow
Saturday
Dates for 2022-23 winter season
Opening: Saturday 17 December 2022
Closing: Sunday 16 April 2023
Distance by car
Genève to Morillon: 53 kilometres (33 miles). Estimated time: 1 hour 4 minutes
Annecy to Morillon: 71 kilometres (44 miles). Estimated time: 1 hour 4 minutes
Chambéry to Morillon: 117 kilometres (73 miles). Estimated time: 1 hour 26 minutes