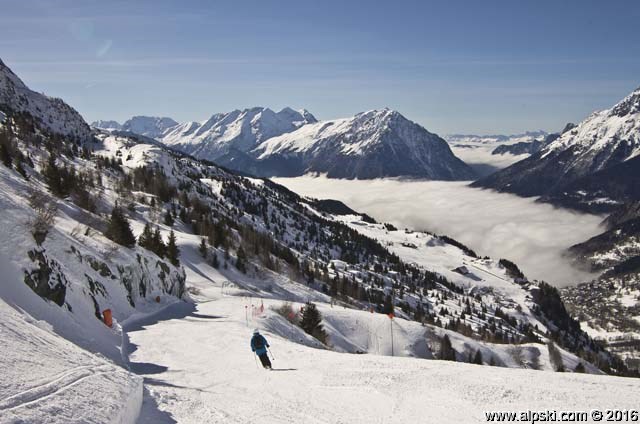 Oz and Vaujany are two resort villages less than an hour's drive from Grenoble in the Isère region of the French Alps. They are united into a single ski resort that is connected to the large ski area of Alpe d'Huez. Oz and Vaujany are authentic mountain villages that offer tradition and modernity at the same time.

Their ski area is varied and suitable for all types of skier. The slopes wind through the pine tree forest facing the majestic Belledonne and Grandes Rousses mountain ranges. Access to Alpe d'Huez is easy and fast. The return to the resort is on long blue and red runs. Oz-Vaujany is a 'doorstep skiing' resort that is ideal for families.

Non-skiers will also enjoy themselves with with many other mountain activities available: hiking tours, snowshoeing, ice skating and more.
Downhill skiing
Maximum altitude: 2800 m
Minimum altitude: 1250 m
Number of ski lifts: 18 (cable cars: 2, gondola lifts: 6, chairlifts: 3, drag lifts: 7)
Number of ski runs: 31 (

black: 2

,

red: 11

,

blue: 10

,

green: 8

)
Total distance: 75 km
Dedicated activity areas: 2 (snow park: 2)
Snow conditions
Last updated: Monday, 01 May 2023 at 08:50
Downhill ski area
Snow conditions:
Snow depth on lower slopes: cm
Snow depth on upper slopes: cm
Avalanche risk:
Return by ski:
Black runs open: 0 / 2

Red runs open: 0 / 11

Blue runs open: 0 / 10

Green runs open: 0 / 8

Runs open : 0 / 31
Lifts open: 0 / 18
Weather
Last updated: Monday, 01 May 2023 at 08:50
Temperature at summit: °C
Temperature at base: °C

Today
Monday

Tomorrow
Tuesday
Dates for 2022-23 winter season
Opening: Saturday 10 December 2022
Closing: Friday 21 April 2023
Distance by car
Grenoble to Oz-Vaujany: 50 kilometres (31 miles). Estimated time: 59 minutes
Chambéry to Oz-Vaujany: 105 kilometres (65 miles). Estimated time: 1 hour 40 minutes
Lyon to Oz-Vaujany: 158 kilometres (98 miles). Estimated time: 2 hours 5 minutes