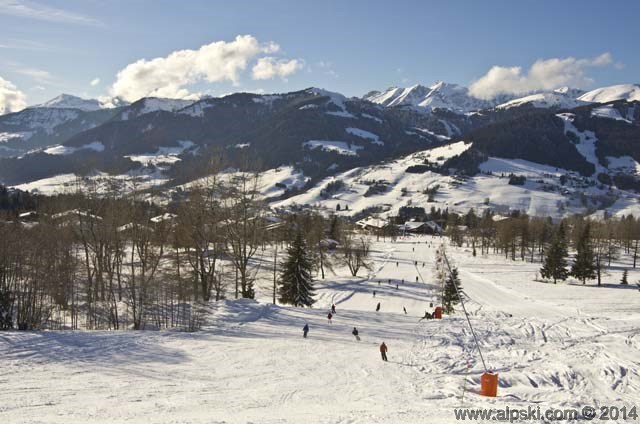 Megève is a mountain village in the Haute-Savoie region of France. Megève is one of the first ski resorts to be developed in France under the leadership of the Rothschild family who fell for its charm. In the 1910s, the Rothschilds regularly came on holiday to Megève and were closely involved in the touristic development of the village, which rapidly became a place to be for royalty and the international jet-set, who adored this charming French village. Today the very French atmosphere of its hotels and restaurants, its luxury shops, the pedestrian areas, the horse drawn wooden carriages and the beauty of the natural surroundings still attract an upscale clientele.

Megève is also a ski resort. Its ski area, located on the slopes of two mountain peaks (Rochebrune and Mont d'Arbois) is extensive and varied, with snowy fir trees, picturesque mountain chalets, and a beautiful view of Mont Blanc. It is characterized by gentle slopes that are not very long and are perfect for beginner and intermediate skiers. More experienced skiers could become a little frustrated by the lack of vertical drop. Two types of ski pass are available, one for the area of Saint-Gervais Megeve, which is more than enough for one day's skiing, and the other for the larger "Evasion Mont Blanc" area which includes Saint Gervais, Megève, Le Jaillet, St Nicolas de Veroce, Les Contamines, Combloux and La Giettaz. This ski pass is perfect for a longer stay.

The beautiful Rochebrune cable car is a legendary ski lift in Megève dating from 1933. Unfortunately it cannot carry many skiers at a time and there is often a long queue. It is advisable to avoid it at busy times. Furthermore, many of the other lifts in Megève are aging and slow when compared with other large resorts with a similar ski pass price. That said, the slopes of Megève are beautiful and, above all, are in a magnificent natural setting.
Downhill skiing
Maximum altitude: 2014 m
Minimum altitude: 1070 m
Number of ski lifts: 34 (cable cars: 1, gondola lifts: 6, chairlifts: 10, drag lifts: 17)
Number of ski runs: 50 (

black: 8

,

red: 19

,

blue: 12

,

green: 11

)
Total distance: 110 km
Dedicated activity areas: 1 (snow park)
Cross-country skiing
Number of runs: 19 (

black: 4

,

red: 5

,

blue: 5

,

green: 5

)
Total distance: 38 km
Snow conditions
Last updated: Sunday, 24 September 2023 at 14:48
Downhill ski area
Snow conditions:
Snow depth on lower slopes: cm
Snow depth on upper slopes: cm
Avalanche risk:
Return by ski:
Weather
Last updated: Sunday, 24 September 2023 at 14:48
Temperature at summit: °C
Temperature at base: °C

Today
Sunday

Tomorrow
Monday
Dates for 2022-23 winter season
Opening: Saturday 17 December 2022
Closing: Sunday 26 March 2023
Distance by car
Genève to Megève: 69 kilometres (43 miles). Estimated time: 1 hour 2 minutes
Annecy to Megève: 60 kilometres (37 miles). Estimated time: 1 hour 10 minutes
Chambéry to Megève: 85 kilometres (53 miles). Estimated time: 1 hour 12 minutes