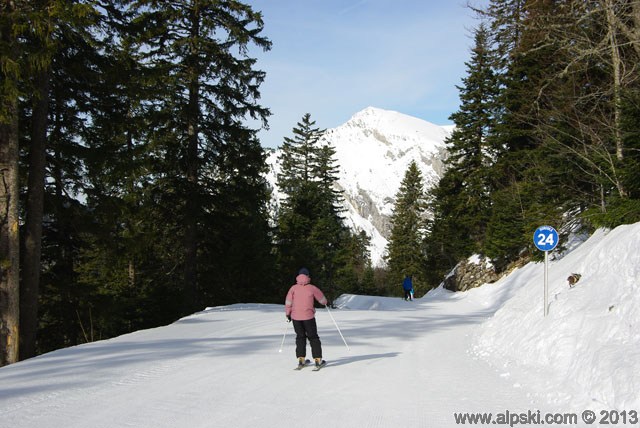 Saint-Pierre de Chartreuse is a small ski resort located in the heart of the Chartreuse natural park between Grenoble and Chambéry. It is an authentic mountain village.

The ski area, perfect for family skiing, consists of two inter-connected zones: Saint-Pierre de Chartreuse with a gondola lift departing from the village centre and Le Planolet, which is near the Cucheron mountain pass. The area is excellent for beginner skiers, with a good nursery slope area and a number of relatively easy blue runs. More experienced skiers will enjoy the trails through the forests and pastures as well as a couple of quite long black runs. Other winter activities are proposed, such as snowshoe hikes and tobogganing.

A few kilometres from Saint-Pierre de Chartreuse, the village of Saint-Hugues/Les Egaux offers cross-country skiing with approximately 56 kilometres of runs.
Downhill skiing
Maximum altitude: 1789 m
Minimum altitude: 900 m
Number of ski lifts: 9 (gondola lifts: 1, chairlifts: 2, drag lifts: 6)
Number of ski runs: 24 (

black: 4

,

red: 9

,

blue: 5

,

green: 6

)
Total distance: 35 km
Cross-country skiing
Number of runs: 4 (

red: 2

,

blue: 1

,

green: 1

)
Total distance: 56 km
Snow conditions
Last updated: Sunday, 24 September 2023 at 13:20
Downhill ski area
Snow conditions:
Snow depth on lower slopes: cm
Snow depth on upper slopes: cm
Avalanche risk:
Return by ski:
Black runs open: / 4

Red runs open: / 9

Blue runs open: / 5

Green runs open: / 6

Runs open : 0 / 24
Lifts open: / 9
Weather
Last updated: Sunday, 24 September 2023 at 13:20
Temperature at summit: °C
Temperature at base: °C

Today
Sunday

Tomorrow
Monday
Distance by car
Grenoble to Saint-Pierre de Chartreuse: 27 kilometres (17 miles). Estimated time: 38 minutes
Chambéry to Saint-Pierre de Chartreuse: 39 kilometres (24 miles). Estimated time: 45 minutes
Lyon to Saint-Pierre de Chartreuse: 119 kilometres (74 miles). Estimated time: 1 hour 32 minutes